Do you recognize the importance of your premises or business premises being fitted with an AED, but are put off by the purchase price? If so, renting the AED is the answer. You can rent an AED starting from CHF1,50 a day!!
For a fixed monthly fee, you will have the most advanced CardiAid AED to hand for the duration of 72 months. Periodic servicing and replacement of the batteries and electrodes is included in the subscription fee. You will never be faced with additional expenses.
Read more about the advantage of renting an AED. You can rent an semi automatic AED from CHF46,50 a month. The contract term is based on 72 months. A fully automatic AED starts from CHF 62,00 a month. Both packages come with the full service package included.
The AED comes fully complete with:
sturdy carry bag
Free first aid kit:

Scissors
Shaver
Latex gloves
Alcohol towel
Respiratory mask

Easy Quick Reference Card
Free extended maintenance agreement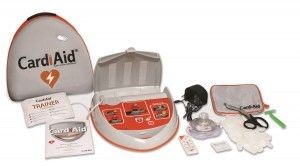 // 0 || isButtonPress == true;});} );} } } );jQuery(document).bind('gform_post_conditional_logic', function(event, formId, fields, isInit){} );
// ]]>

//